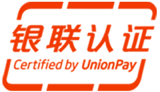 An omnipotent payment device.
Various Payment Methods

Multiple Applications

Easy Management
Certified by China UnionPay in terms of product safety.
"Security Specifications for Terminal Accepting UnionPay Card q/cup007-2014" (upts v2.0).
Plus advanced financial level security guard.
Security Certification of UnionPay & Telecom Terminal Network Access
China Compulsory Certification

EU CE Certification

International CB Safety Certification

Federal Communications Commission Certification

EU RoHS Authentication

ICASA Certification
We'll NEVER be involved in App software & payment business. We ONLY focus on intelligent hardware & technical services.
Innovative ecological cloud for technical services.
Support all kinds of payment methods.
Incorporate various payment methods such as magnetic stripe card, IC card, NFC, UnionPay Quick Pass, Apple Pay, WeChat Pay, Alipay, MI Pay, etc.
Watch the SUNMI P1 Short Video