SUNMI 58 Thermal Receipt Printer
Particularly prepared for the pacemaker.
A massive amount of receipts, one printer.
Equipped with 58mm high-performance Seiko thermal print head with a print speed of 165mm/s, it can print receipts in real time and free of getting stuck.
Print with different positions.
It can print normally standing or laying on/under the table.
Large-capacity, convenient and cost-effective.
Capable of accomodating till rolls of 58mm width and 60mm diameter, it saves you from frequent refilling and cuts cost on till rolls.

40mm

50mm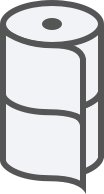 60mm
*Supposing we print 3000 receipts/year and each receipt is 0.15m, then every year we need
490 till rolls with a diameter of 40mm
270 till rolls with a diameter of 50mm
180 till rolls with a diameter of 60mm
Compared with using the till rolls with diameters of 50mm and 40mm,148 yuan and 411 yuan can be saved respectively every year if using the till rolls with a diameter of 60mm.
Real-time self-detection for quick feedback.
Overheating? Printer being damaged? Run out of paper? Through LED indicator light as well as the real-time feedback on printer status obtained from cash register backstage, you can grasp the condition of the printer in the first hand.
*Fault point detection and real-time feedback have to be enabled with software.
Tear receipt and refill till roll with one hand.
The stable printer body and zig-zag cutter edge enable you to tear the receipt effortlessly with just one hand.The printer is uniformly forced due to its honeycomb internal structure. Till roll refilling can be a more convenient work for the lid can be closed with just one hand.
The new plug-and-play Type-C USB is compatible with Windows/Android systems.
The compact design of built-in power adapter saves more room.
Printer

Print mode:

Thermal line

Resolution: 203 × 203DPI

Active print width: Max.48mm

Print speed: Up to 165mm/s

Memory

Memory: 64KB

Flash: 4MB

Character Sets

Font library: Default GB18030 + English

International character set:

U.S.A., France, Germany,

U.K.,Denmark I, Denmark II,

Italy Sweden, Spain I,

Spain II, Japan, Norway,Latin

America, Korean

Barcode

1D: Code 39, Code 93, Code

128, Codabar, Interleave 2 of 5,

EAN-8, EAN-13, EAN-128, UPC-A,

UPC-E, EAN/UPC

(2-digit or 5-digit additional

code)2D: Support QR, up to 512

characters

Detections

Sensor:Short-of-paper detection,

temperature detection, print head

fault point detection, power

voltage detection

Button

Function key: One

Power on/off: One

LED Indicators

Power:Blue

Warning:Red

Interface

Cash drawer: One RJ12, 12V/1A

Communication: Type-C USB2.0

Power: 8-shape power port

Power supply

Input: AC 100-240V~50/60Hz

Output: DC 12V/2.5A

Method: Built-in power supply

Paper

Type: Continuous thermal paper

Width: 58mm

Thickness: 51μm~68μm

Diameter: Max.Φ60mm

Separation: Tear

Paper out direction:Front/top

Environment

Working environment: 0°C~50°C

30%~85%RH (40°C)

Storage environment:

-20°C~60°C,

10%~90%RH (40°C)

Protocol Driver

Printing protocol:

ESC/POS instruction set

Operating system:

Windows 7/8/10, Android

Dimensions

Product size (mm):

116 (L) ×116 (W) ×116 (H)