Sunmi To Host "BIoT for Business 4.0|Boost Digital Payment Transformation In Post-Pandemic Era" Webinar
The worldwide impact of COVID-19 has resulted in increasingly larger market size of digital economy. Contactless payment offerings have become the new norm amid the pandemic. To meet expanding customer needs, the number of businesses in various sectors adopting digital payments has increased significantly.
2021 also saw the the accelerated shift toward e-commerce and digital payments across Latin America. LATAM has now become one of the world's fastest growing e-commerce markets. According to Americas Market Intelligence (AMI) analysis from its 2020-2024 LatAm E-Commerce Datapack, the e-commerce growth rates for markets in Mexico, Brazil, Colombia, Argentina, Chile, and Peru are projected to be around 20%-40% between 2020 and 2024. More than 75% of e-commerce transactions will be done with a mobile device by 2024. Digital payment transformation is essential in order to take advantage of this growth. Under this circumstance, SUNMI will roll out its new live webinar on Boost Digital Payment Transformation In Post-Pandemic Era.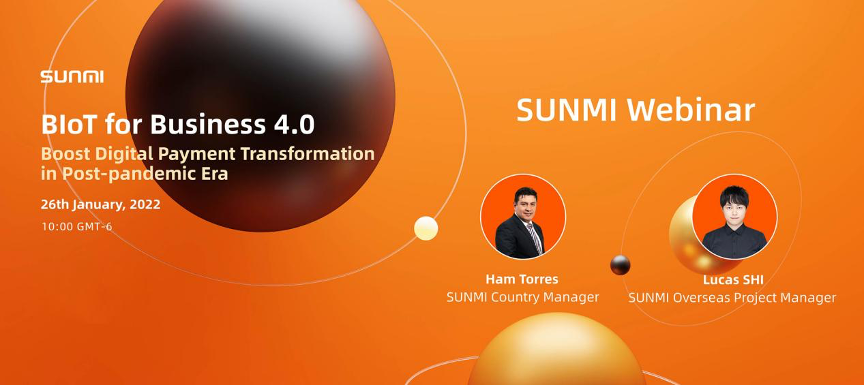 Presented by Ham Torres, SUMMI Country Manager from Latin America, and Lucas SHI, SUNMI Overseas Project Manager, the webinar will cover a comprehensive introduction to SUNMI's new slogan [BIoT FOR BUSINESS 4.0] and highlights:

Business Environment in Post-Pandemic Era
2. Tendency of Digitalization
3. SUNMI Boosts Digital Payment Transformation
4. Versatile Devices Satisfy Various Business Needs for Digitalization
In the webinar, success cases in Latin America will be showcased to further demonstrate how SUNMI together with our partners provide digital payment solutions for businesses across industries.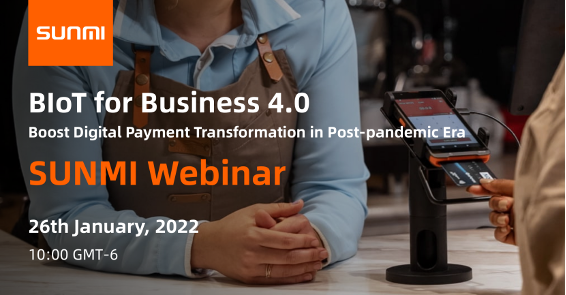 The webinar, which will be running on Wednesday from 10:00-10:30am (Mexico City Time, GMT-6) and be recorded, will be of interest to merchants who want to drive the digital transformation of their business and any audience who are aspiring to gain insights on how to become more competitive in a market with high level of digital payment utilization.
Register for free for this upcoming webinar on:
https://dooyle.zoom.us/webinar/register/WN_hBmUTr_sRayV04ODO_R2YA.
Not available on January 26, register first and the webinar replay will be sent for you to watch at your convenience.
About SUNMI
SUNMI is an IoT company with the core value "Altruism".
We are committed to bring businesses smart IoT devices and supporting integrated cloud services, to build an interconnected world and finally achieve Business 4.0.
Unveiling our first product in 2016, we have successively launched a series of commercial IoT products such as mobile terminals, payment terminals, desktop terminals, kiosks, and network & video analytics, etc., serving various business formats and scenarios. We also provide partners with standardized application development services and highly reliable remote device management system, to help them better run their businesses by improving hardware and application management.
Keyword:Android payment device | mPOS Android | Android handheld | Android PDA | Android Kiosk