How Sunmi V1 improve method process at a sword manufacture ?
Background:
Sunmi Apps Store is the biggest commercial Apps market in China with more 1800 applications uploaded by our partners, and it is increasing with at least 7 Apps everyday.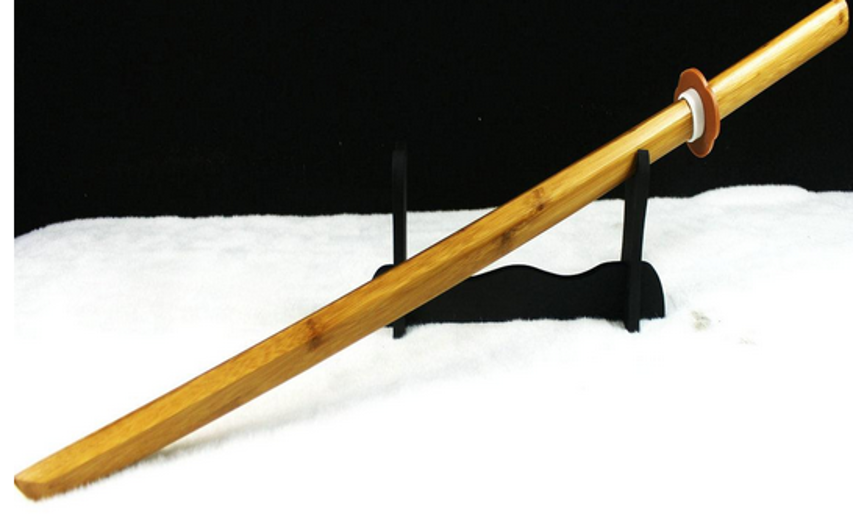 In this column we will share some stories behind these Apps and show you in the new era how to develop your business with more suitable way.
Mr. Blue CEO of a ERP developer company
Mr. Blue's company is mainly engaged in developing commercial ERP solutions, the management team have more than 20 years of experience in the software industry.
He received a request from a Zhangzhou company, who produce and process for "one of the only existed Japanese traditional bamboo sword ( called Shinai) families in the world".
The Japanese bamboo sword must be hand finished and can never be put in commercial production lines, only for better protection of traditional crafts and spirit of Japanese shinai making.
Workers of this factory are very professional artisans, with decades experience in crafting, but just like most craftsmen, they do not like and use the computer. All production schedule can only copy by hand billing.
Then comes the problems:
Handwritten billing is low efficiency and bad effect.
2. Information collection and files management are time-consuming and laborious.
3. The work transition cycle is long, capacity is wasted in the accumulation.
4. Complicate wage settlement, hard to record and calculate working time, pieces and overtime working
5. Process situation can't be recorded and checked until the final warehouse registration.
6. Workers reject the use of intelligent equipment because it's complicate and they don't want to cost time to learn it.
How Mr. Blue solve all these problems and at the same time continue their traditional hand craft?
Solution:
Customized ERP which based on the production process + Extremely easy operate intelligent hardware with printer, scanner, etc.Target: easy to understand, easy to operate, factory artisans can use it without any training.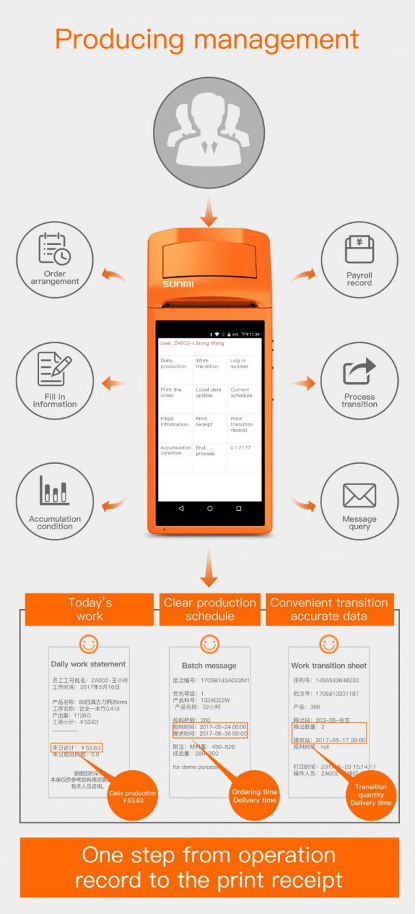 Advantage:
Low training cost, easy to operate!
2. No handwritten billing, convenient and efficient working receipt printing!
3. Clear working receipt transition, promote capacity.
4. Check production schedule at any time, easy to manage!
5. Record data fragment at any time, reduce error rate, save both time and labour!
6. Extra workforce has been saved and management team can also be put into production!
Factory boss review:
I'm so satisfied with this solution!
Since the deployment of Sunmi V1, we completely abandon the traditional hand billing and simplify work processes, reduce errors, improve production capacity. Workers also enhance the personal income. Most important is the convenient simple interface and operation of Sunmi V1, workers like to use it at the first day without any rejection.
About SUNMI
SUNMI is an IoT company with the core value "Altruism".
We are committed to bringing businesses smart IoT devices and supporting integrated cloud services, to build an interconnected world and finally achieve Business 4.0.
To better serve our global partners & merchants, we have established branches in 15 countries, covering 5 core regions including Asia-Pacific, Europe, North America, Latin America, the Middle East & Africa. We offer an industry-leading service experience for all the customers around the world supported by a global service network, 24/7 instant response service desk support and various value-added SUNMI Care Kit.
KeyWord:SUNMI、Android POS、BIoT