SUNMI V Series Updated for Empowering Digitalization
What will happen if an enterprise pursues for extreme perfection in the business digitalization?
Deeply rooted in business IoT devices and digital solutions, SUNMI ceaselessly seeks for innovations, achieving breakthroughs one by one, never stopping.
On November 17th, SUNMI V series family welcomes two brand-new members, SUNMI V2s PLUS and SUNMI V2s, both greatly upgraded in functionalities and performance, with better protection and more diversified application scenarios.
Upgraded for Empowering Digitalization
These two brand-new V series devices are all equipped with the latest SUNMI OS version, delivering more powerful performance, and faster running speed, as well as a smoother switch between multi-apps. Take restaurant operations as an example, you can use one SUNMI device for all needs like generating queuing number, ordering, receiving take-out orders, loyalty card reading, checkout, etc.
Take restaurant operations as an example, you can use one SUNMI device for all needs like generating queuing number, ordering, receiving take-out orders, loyalty card reading, checkout, etc.
SUNMI V2s PLUS, winning 2021 Red Dot Design Award, is a truly innovative device. Equipped with a wholly new inbuilt 80mm printer, V2s PLUS supports three printing types, respectively being receipt printing, label printing and black mark printing. And SUNMI's self-developed algorithm realizes automatic label learning, which can automatically determine the starting position of label printing, giving a more accurate printing result.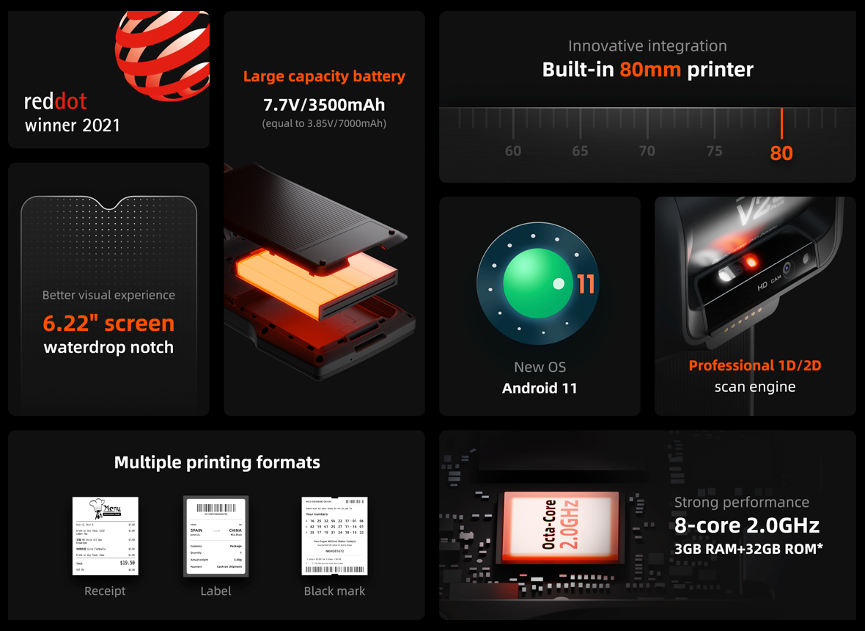 For supermarkets and grocery shops, commodity items vary a lot and need changing frequently. To update products' labels, much time and manpower need to be invested. With SUNMI V2s PLUS, workload becomes less and shop assistants' efficiency is greatly enhanced. Apart from providing support for basic business operations, V2s PLUS also has NFC identification functionality, which can help improve the digital management of loyalty members and operational efficiency, as well as boost revenue.
The front camera of V2s PLUS makes it a convenient tool for employee identification and payments using facial recognition, and the rear camera supports barcode-based payments to improve digital payment experience. You can also take proof photos using the camera if needed. The 6.22" screen, waterdrop notch design, brings a wider ultimate visual experience.
The black mark printing function of V2s PLUS makes lottery business more mobile and easier. Its compact design also leaves more room for goods, and thus more profits, on the checkout counter.
SUNMI breeds new opportunities together with ecosystem partners, with high-quality services.
SUNMI V2s and SUNMI V2s PLUS, in combination with ecosystem partners' capabilities and linked by the BIoT strategy, have delivered merchants the optimum choices for industry-wide solutions based on different sectors' needs.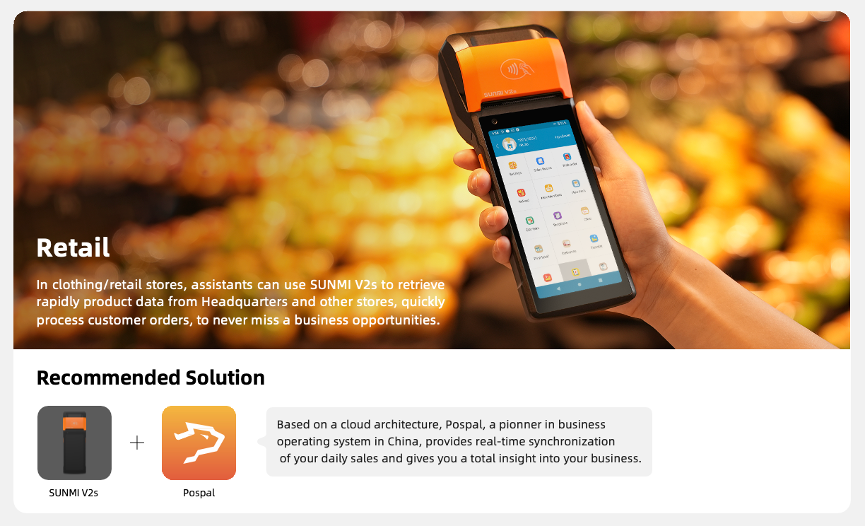 In the past years, together with 27,000 developers and partners globally, SUNMI has brought abundant products and services to the world, consistently digging in the service sector, including retail, F&B, agricultural foods, groceries, warehousing, logistics, lottery, etc., delivering better user experience to each consumer.
As a leading enterprise in the business digitalization IoT field, SUNMI will keep on realizing its BIoT strategy, focusing on providing IoT devices and device-to-cloud integration services to merchants. In the future, SUNMI will consistently enhance the perception and connection abilities of the devices, and enrich business services on the cloud, together with partners, to continually empower developers and provide a variety of solutions for merchants to cope with multiple business scenarios.
About SUNMI
SUNMI is an IoT company with the core value "Altruism".
We are committed to bringing businesses smart IoT devices and supporting integrated cloud services, to build an interconnected world and finally achieve Business 4.0.
To better serve our global partners & merchants, we have established branches in 15 countries, covering 5 core regions including Asia-Pacific, Europe, North America, Latin America, the Middle East & Africa. Our IoT products and solutions have been used in more than 200 countries, regions and territories, empowering merchants around the world.