AFIONA and SUNMI Reached an In-depth Cooperation to Jointly Build New Retail Digital Stores
On November 11th, AFIONA, the domestic well-known imported cosmetics retail chain enterprise, reached an in-depth cooperation with SUNMI, the industry-leading enterprise in IoT field, and officially signed the cooperation agreement in Shanghai.
In the future, a full set of SUNMI IoT devices will be provided for AFIONA retail stores, empowering its stores with digital solutions, to better manage IoT devices, monitor and analyze data multi-dimensionally, improve stores' digital operations, and deliver customers a more comprehensive and intelligent service experience.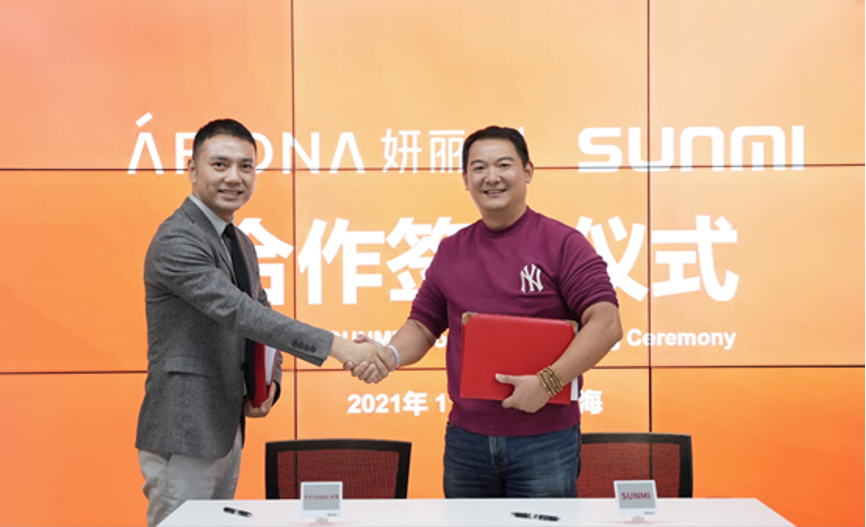 Tony, CEO of AFIONA, signed the cooperation agreement with Jack Lin, CEO of SUNMI.
"Together with SUNMI, and still centered on customer service, AFIONA's digital stores, apart from providing customers the customized and differentiated skin solutions, will also deliver a smarter, safer, more convenient and more considerate shopping experience to our customers." Said Tony, CEO of AFIONA, at the signing ceremony.
A win-win cooperation, providing customers a smarter offline shopping experience.
As a well-known domestic imported cosmetics retail chain brand, AFIONA is dedicated to bringing global highly favored cosmetics to Chinese consumers. After 26 years of development, AFIONA has opened over 150 retail stores in more than 50 cities in China, with over 5 million loyalty members. AFIONA pays much attention to its brand image and speaks highly of customer service, which inevitably drives it to upgrade to digital stores.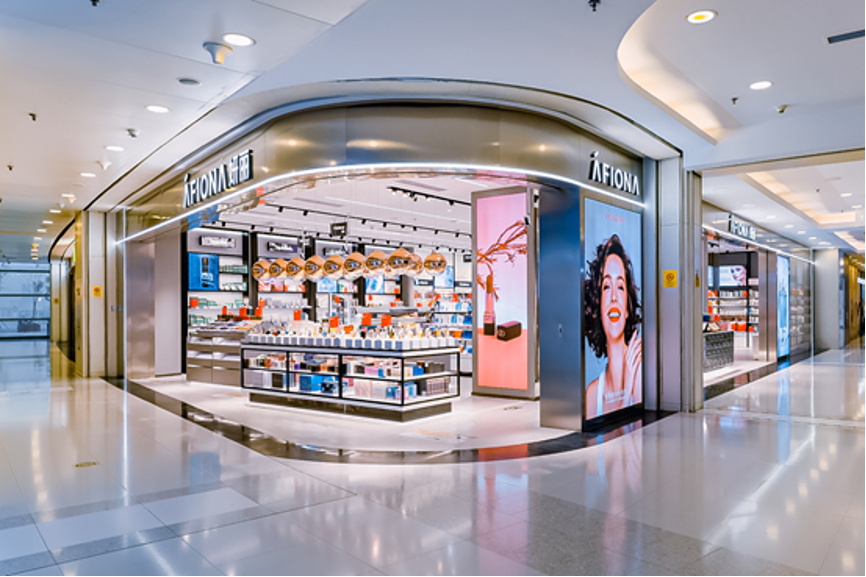 "Currently, the offline retail channels are heading to a more integrated trend, with items sold with services, retail with technologies, and online & offline shopping both reachable. When consumers are shopping in the retail stores, they would like to have a more convenient shopping experience, which is exactly the point that SUNMI wants to improve for AFIONA." Said Zhou Tianwai, VP of SUNMI IoT Products R&D Dept.
Since its first smart IoT device launched in 2016, SUNMI has rolled out abundant products and services to the world within several years, together with over 27,000 global developers and partners, helping worldwide offline stores upgrade to digital stores, to give each customer a better consuming experience when walking into a store.
SUNMI IoT Devices Empower AFIONA to Build Digital Stores
Though the agreement was just signed, SUNMI's IoT devices have already been installed into the retail store of AFIONA located in Nanjing newly opened last month. Together with the smart retail software developed by Jiangsu Innovation Era Network Technology Co., Ltd., SUNMI empowers AFIONA to build a sample digital store.
There are a series of SUNMI IoT devices installed in AFIONA's Nanjing retail store, like the face sense camera, ESL, V2 PRO smart mobile terminal, L2K smart mobile terminal and so on, which empowers the store with digital functionalities such as commodity traceability, identical online & offline prices, store security, cash loss prevention, mobile checkout, inventory check and so on. Moreover, the digital solutions can also help store manager realize smart operational analytics.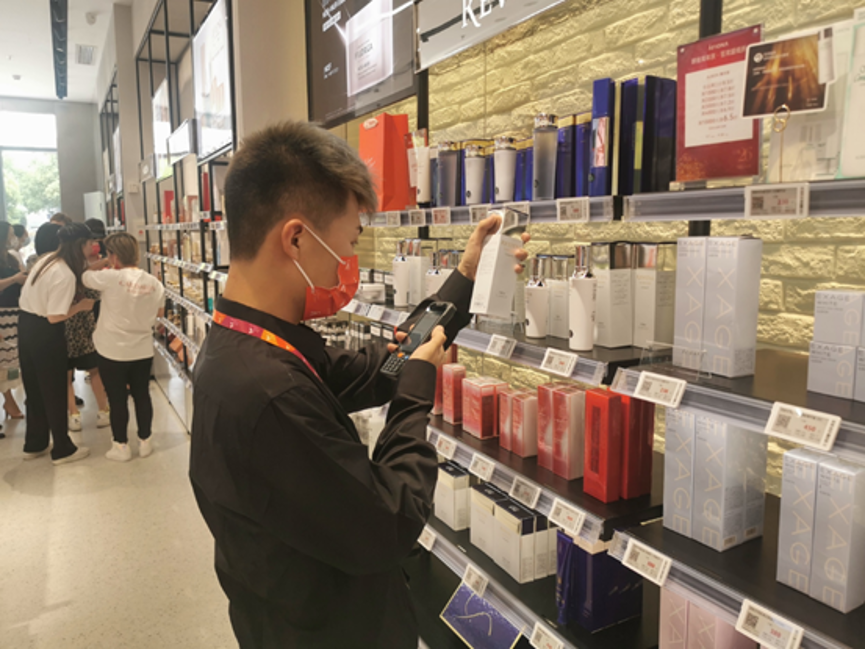 A store clerk is using SUNMI L2K for inventory check in AFIONA's Nanjing retail store.
After SUNMI K2 MINI is launched, self-shopping is also possible for customers. The smarter service will obviously improve the consuming experience and service satisfaction.
Relied on its unique competitive edges like differentiated commodities combination, retail stores nationwide covered, and high-quality service, AFIONA always retains excellent brand image and strong growth. To meet the continuous changing demands of the market, AFIONA has successively rolled out strategies from multiple perspectives, including brand building, supply chain optimization, brand loyalty improvement, digital upgrade, etc., persistently sticking to its brand mission: Build a skin care shop trusted by customers, let each customer have their desired skin.
About SUNMI
SUNMI is an IoT company with the core value "Altruism".
We are committed to bringing businesses smart IoT devices and supporting integrated cloud services, to build an interconnected world and finally achieve Business 4.0.
To better serve our global partners & merchants, we have established branches in 15 countries, covering 5 core regions including Asia-Pacific, Europe, North America, Latin America, the Middle East & Africa. Our IoT products and solutions have been used in more than 200 countries, regions and territories, empowering merchants around the world.