BACK TOGETHER AGAIN! SUNMI JOINED NRF 2022: RETAIL'S BIG SHOW IN NYC
NRF's annual Big Show just wrapped this week at the Jacob Javits Convention Center in New York City. Despite the inclement weather and tough situation concerning the omicron variant of COVID-19, the biggest event of retail industry was held as scheduled from January 16th-18th, which could be seen as the signal of how the industry as a whole is ready to step forward and spur economic recovery from the pandemic. According to National Retail Federation President and CEO Matt Shay, this year's trade show managed to draw about 20,000 attendees and 800 participating companies, along with a full list of keynote session panelists.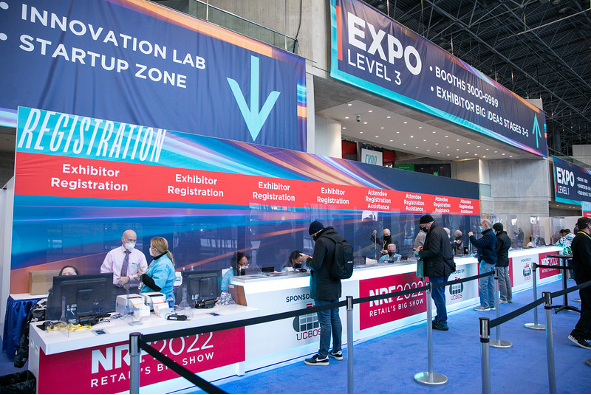 Source:NRF.com
SUNMI, together with IBM, Walmart and other retail tech giants, presented at the NRF 2022. With the booth categorized within the Innovation Zone, SUNMI showcased its full edge IoT product/service lines, from handheld terminals, desktop, kiosks, to facial recognition terminals, and cloud-terminal integrated services.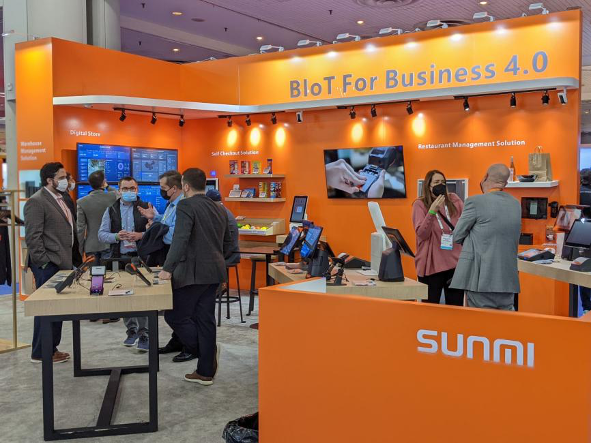 4 scenarios, restaurant&kitchen, self checkout, warehouse, and specialty store, were set up to demonstrate how SUNMI IoT technologies drive retailers' digitization with industry tailored solutions. The on-site showcase also highlighted the SUNMI Digital Store, one-stop digitalized store platform for our merchants together with ecosystem partners. It consists of store management, device management, operational statistics and various solutions, to bring digital store operations for merchants.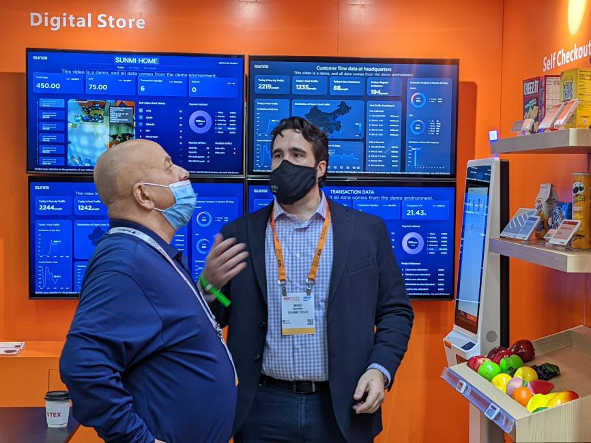 The whole retail industry has been through the most turbulent two years with ups and downs of pandemic, and the following one is also predicted to be challenging with substantial uncertainty. The blend of virtual and physical world is the ongoing tendency that retailers and tech companies should all take note of. The nature of pandemic boosts the e-commerce sales, and pushes technologies to play a more and more important role in improving retail experience. Together with partners worldwide, SUNMI will continue to upgrade and provide IoT-empowered solutions for businesses across retail industry to strive for a booming future in the fast-paced environment.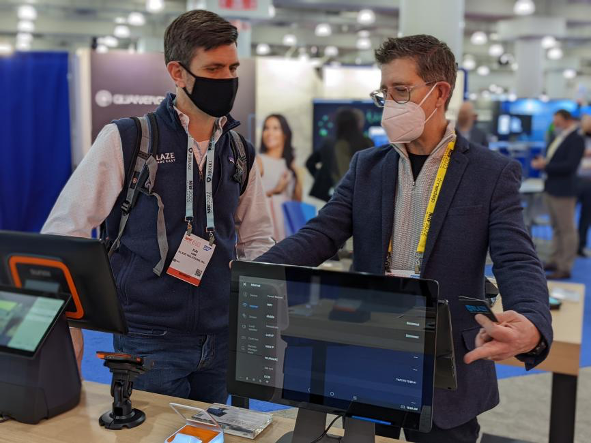 About SUNMI
SUNMI is an IoT company with the core value "Altruism".
We are committed to bringing businesses smart IoT devices and supporting integrated cloud services, to build an interconnected world and finally achieve Business 4.0.
To better serve our global partners & merchants, we have established branches in 15 countries, covering 5 core regions including Asia-Pacific, Europe, North America, Latin America, the Middle East & Africa. Our IoT products and solutions have been used in more than 200 countries, regions and territories, empowering merchants around the world.
KeyWord:Android PDA、mPOS Android、Android POS